It's Orgasmic
Jeep CJ7 Base - 1985
Blue Baby CJ7 Restoration
 Complete disassembly of the Jeep to bare frame. Frame sandblasted and epoxy coated with urethane black topcoat. Body chemically stripped to bare metal on exterior panels. Body is expertly smoothed of any spot weld and damage, Base coat/clear coat final finish. Spray-in bed-liner coating applied to inside tub -Undercoating on underside tub and fenders. Powder coat hood hinges, windshield hinges, tail gate hinges for an overrall unbelievable beautiful finish.
Cooper 32-11.50-15 tires. American racing 15×10 aluminum polished wheels. Chrome splinedrive lug nut kit. Mountain offroad shackle reversal. Kit for 2.5″ YJ springs. Bds 2.5″ YJ 2″ lift springs. Fox 2.0 shocks front and rear Bds YJ spring conversion kit. Genright 20gal fuel tank. Jeep YJ fuel module, fuel fill and vent hoses. Hydroboost braking system upgrade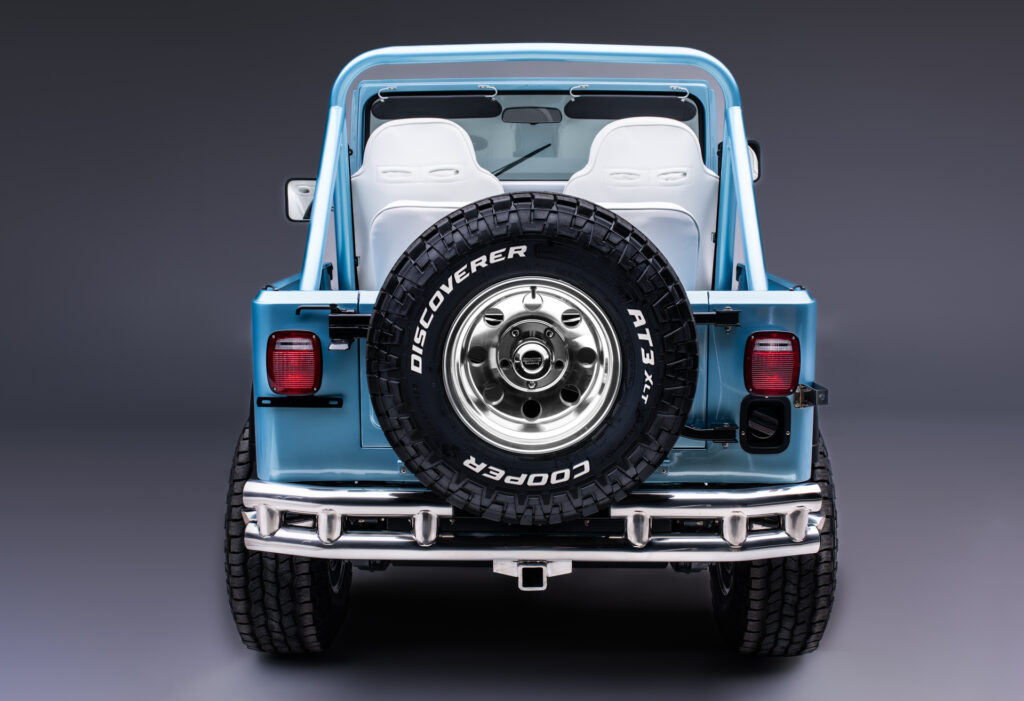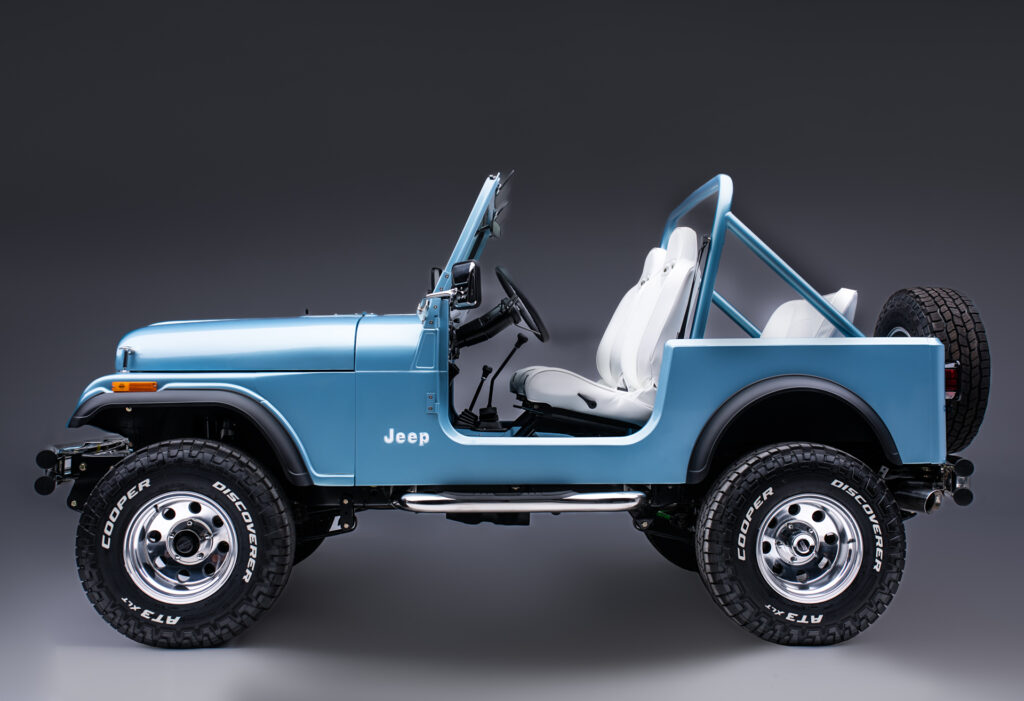 New GM LS-3 430HP
Engine Conversion
Engine is completely new. New alt, starter, water pump, p.s. pump. New radiator. New belts, hoses, heater core. Service transmission. Service transfer case. Service axles. Driveshafts are inspected, Replace universal joints. New brake master cylinder, calipers, hoses. Hand formed stainless steel brake hard lines, rotors, wheel cylinders, brake shoes and drums. HEI ignition up-grade.
engine wire harness and ecm. xtreme engine cooling package. Custom radiator pluming. hd engine mounts. custom fabricated transmission crossmember. gm ls to ax-15 bellhousing. custom 409 stainless steel exhaust system. genright 20gal fuel tank. high pressure fuel system. ls-3 engine covers. engine front accessory package (alt, p/s pump, belt tensioner, idler pulley, a/c compressor). new ax-15 5 speed manua transmission. hd clutch and flywheel
Interior: Sweet, White and Blue
Flaming river tilt floor shift steering. Flaming river steering column mounts. Flaming river steering shafts. Speedhut gauge upgrade in white face. 36" bench custom suspension. Jeep CJ reproduction leather wrapped steering wheel. Bench seat for Jeep CJ7/YJ. Stitching: White | piping: 227. PVL white (partners snow storm) | Back: 227 – PVL white (partners snow storm) | Center: 227 – PVL white (partners snow storm) | Arm: 227 – PBVL white (partners snow storm) | Band: 227 – PVL white (partners snow storm).
Enduro high back reclining suspension seats – driver and passenger. Stitching: White | piping: 227 – PVL white (partners snow storm)| Back: 227 – PVL white (partners snow storm) | center: 227 – pVLl white (partners snow storm) | arm: 227 – PVL white (partners snow storm)| band: 227 – PVL white (partners snow storm). 2 air lumbar for both front seats. Bestop charcoal traditional bikini top. Retro Sound stereo head unit. 5-1/4 dash mounted speakers 6×9 rear speakers in plastic enclosures